Roadmap to Transformation
In June 2023, we issued an urgent call to action to all levels of government to join OBOT in declaring Downtown Ottawa a top priority. Read the full announcement here and the OBOT President's remarks here.
We also unveiled our 5-Pillar Plan with the objective of mobilizing all stakeholders to join us in building a roadmap to transformation for our downtown core.
As the downtown economy with the highest concentration of public sector employment among large Canadian cities, Ottawa was hit especially hard as public servants were slow to return to office. Still, we have long identified this as a unique and timely opportunity to reimagine the future of our downtown core. We must act now and leverage the strengths and opportunities Ottawa has to offer, while strengthening the core with initiatives that will drive city building and support our economic growth agenda.
Why is a Vibrant and Resilient Downtown Important to the Entire National Capital Region?
Economic Development: A vibrant downtown is a key driver of economic development for the entire region. It can attract
new businesses and investment, create jobs, and it generates disproportionate tax revenue that is used to support
essential services across the region.
Community Building: Ottawa's downtown is a hub for community events and activities, bringing people together and
fostering a sense of community. It is also a place for cultural events, festivals and concerts, that promote a sense of local
identity and pride.
Tourist Attraction: Downtown Ottawa is a major tourist attraction, drawing visitors to the city and supporting local
businesses from across the country and around the world. Tourists experience the unique character and culture of Ottawa
and Canada, and Downtown is a key part of that experience.
Accessibility: Downtown Ottawa needs to continue to become even more accessible to residents who do not have access
to a car or who prefer not to drive. A dense, walkable downtown can provide easy access to essential services, such as
shops, restaurants, and cultural institutions, as well as public transportation.
Environmental Sustainability: A vibrant downtown Ottawa can serve as a world class example for environmental
sustainability. The infrastructure already exists to reduce reliance on cars and more sustainable modes of transportation,
such as walking, biking, and public transit.
The Five Pillars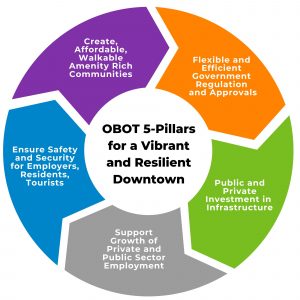 1. Create, Affordable, Walkable Amenity Rich Communities
Ottawa needs to commit to the planning principles to develop 15-minute neighborhoods in the key Downtown nodes including, Downtown, Centretown, Lebreton and Byward. 15-minute neighborhoods, also known as a "complete neighborhood" or a "liveable neighborhood," is a concept in urban planning and design that aims to create communities where residents can access most of their daily needs within a 15-minute walk, bike ride, or public transit ride from their homes. This promotes economic development by encouraging small businesses and local services, and foster a sense of community and social cohesion by creating more walkable and bikeable streets and public spaces.
2. Flexible and Efficient Government Regulation and Approvals
We need to recognize the importance of our status as a capital city. Create a policy framework that acknowledges that we are the country's capital city, that we are part of a large metropolitan region in the Canadian context, and that our approach to urban and community design should be of a quality and caliber that correspond with the image we want to maintain and strengthen.
3. Public and Private Investment in Infrastructure
Investing in infrastructure plays a critical role in making Downtown more livable, vibrant, and sustainable which in turn attracts businesses, residents, and visitors, and contributing to economic growth and quality of life for residents. The current Official Plan identifies Design Priority Areas as the City's intensification target areas. Special attention is required for Downtown because it is critical to the identity and character of the city. Areas such as the scenic routes, major waterways, and important historic, cultural and tourist destinations should be identified for investment.
4. Support Growth of Private and Public Sector Employment
5. Ensure Safety and Security for Employers, Residents, Tourists
Homelessness and addiction are complex issues that require a multifaceted approach to improve the lives of individuals experiencing these challenges. If we are successful in addressing these challenges it will promote economic growth and create more vibrant and sustainable communities.
June 9, 2023: Ottawa Board of Trade Issues Urgent Call to Action to Declare Downtown Ottawa a Key Priority. Read the full news release.