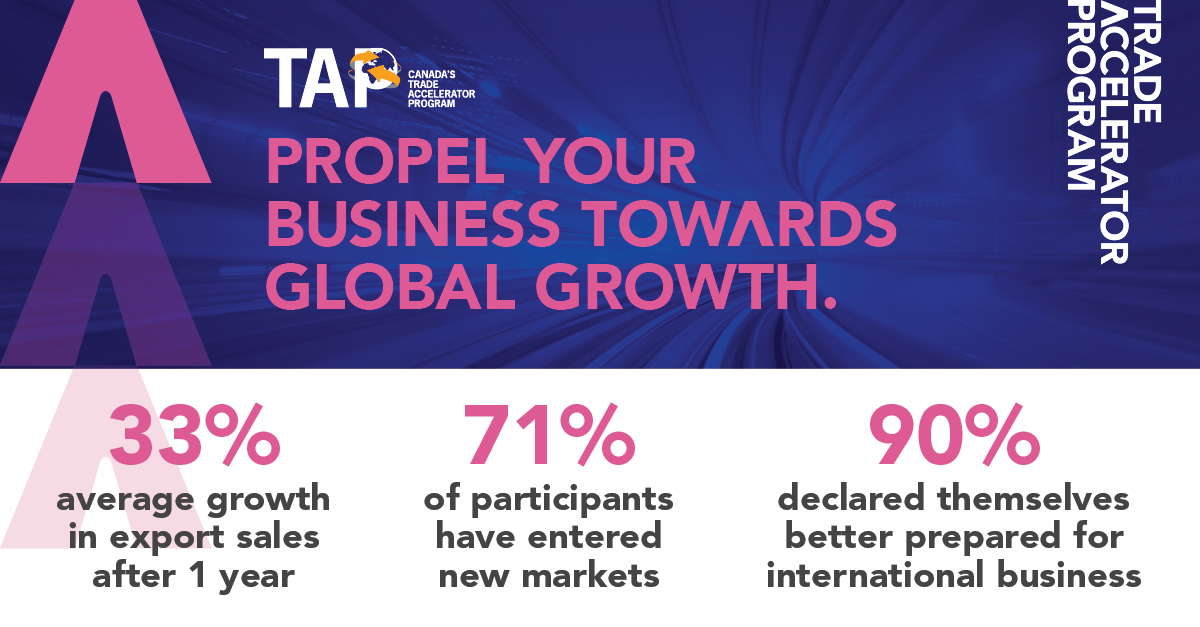 The Ottawa Board of Trade is proud to host the Trade Accelerator Program (TAP), facilitated by the Toronto Region Board of Trade and the World Trade Centre Toronto. This dynamic, hands-on workshop is geared to provide companies with access to Canada's top exporting advisors, resources and contacts, giving them the training and support they need to become successful international traders in their specific business sector. 
TAP graduates report an average growth of 42% in export sales one year after participation, and more than 85% of participants have entered new markets since completing the course. Since its launch in October 2015, TAP has expanded to more than 30 cities across Canada.
Day 1
Day 1: Strategic Planning for Export Market
Day 2
Day 2: Support and Advisory Resources
Day 3
Day 3: Sales and Marketing
Day 4
Day 4: International Finance for Export
Day 5
Day 5: Building Capacity and Supply Chain Management
Day 6
Day 6: Legal and Tax Implications to Going Global
Day 7
Day 7: KPIs, Action Plan and Wrap-Up
Export Plan
Export Plan Submission 
Mentoring Days
One on one with experts

HOW TO APPLY
Companies can participate in TAP via partner nomination or direct application. All applications are reviewed by the TAP team to ensure the program is a good fit and allow participants to maximize its benefits. All applications will be considered on program criteria and assessed on their merits.
The program fee is $5,000 per company; however, generous support from our partners will allow us to reduce this fee to $495 +HST.
ELIGIBILITY GUIDELINES
The companies being sought for TAP-Ottawa should meet the following guidelines:
Generates more than $500,000 in annual revenue
Has been operating for at least 2 years and receiving revenue for its product, service or technology
Is already exporting a product, service or technology, but wishes to diversify its export markets or has taken exploratory steps to expand into new markets
Has a product, service or technology with a strong competitive advantage as a result of quality or patent protection
Is located anywhere in Ontario (not limited to the National Capital Region)
Is willing to dedicate two senior representatives to participate in the program and apply its resources
APPLICATION REQUIREMENTS
Companies that meet the profile are welcome to apply for the program by submitting the following electronic application form below. Once your application is approved, an invoice will be sent to you via email.
CONTACT
For more information, contact Lynn Ladd, Director of Organizational Advancement at 613.236.3631 x 124 or email lynn.ladd@ottawabot.ca

Have you heard of #OttawaNEXT?
Launching the #OttawaNEXT portal is the latest in a succession of Ottawa Board of Trade (OBoT) initiatives designed to remove barriers for local businesses. If you are tired of information overload about COVID-19, economic recovery strategies, and what support is available to you and your business, #OttawaNEXT keeps it simple!