Downtown Ottawa Press Conference: President's Remarks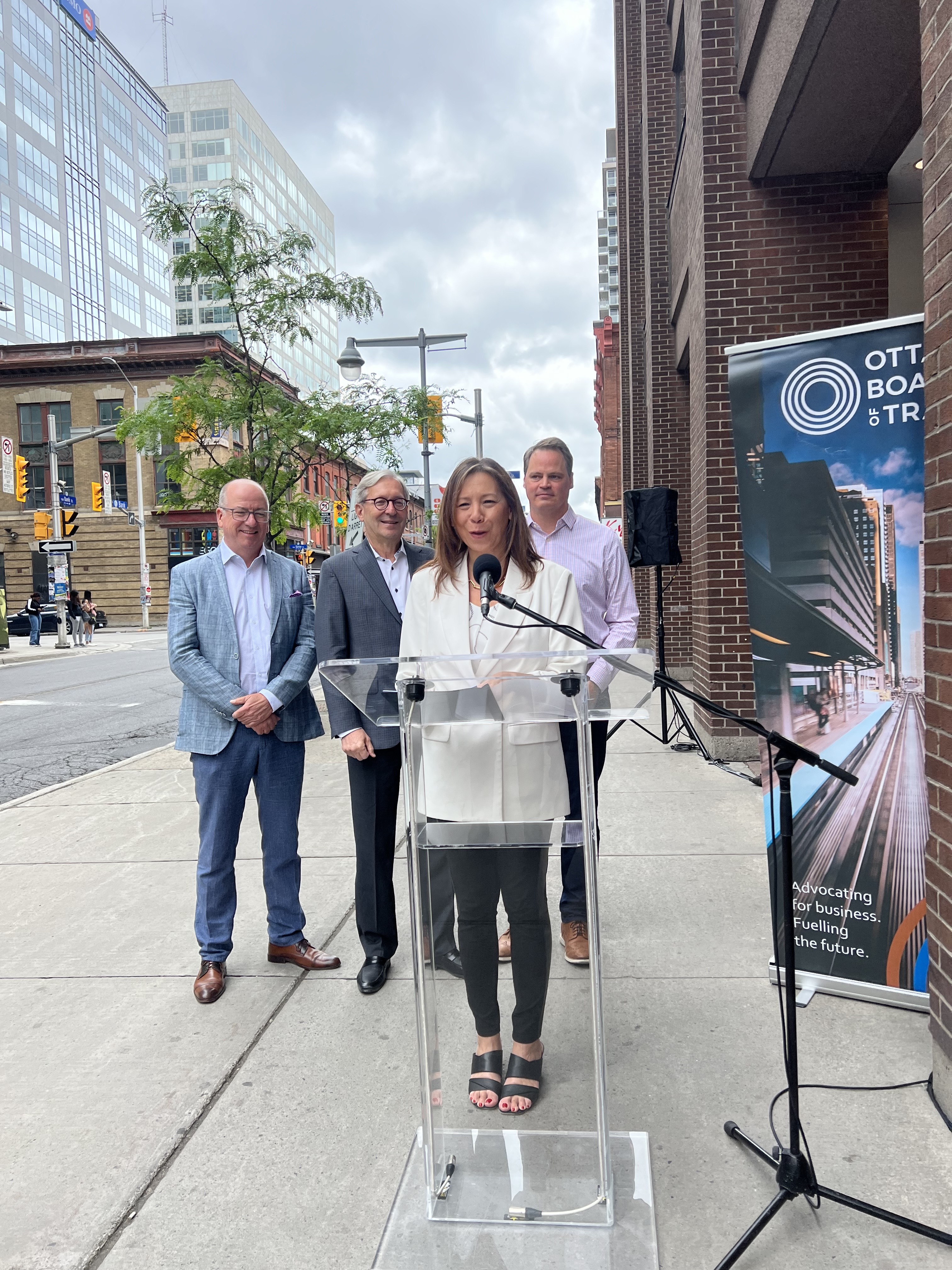 On June 9, 2023 the Ottawa Board of Trade (OBOT) hosted a press conference where they issued an urgent call to action to all levels of government to join OBOT in declaring Downtown Ottawa a top priority. Sueling Ching President and CEO of OBOT gave the following remarks:
Good morning and thank you for joining us. My name is Sueling Ching, and I am honoured to be the President and CEO of the Ottawa Board of Trade.The Ottawa Board of is the voice of business and a key advocate for economic growth in our nation's capital.
I am joined today by my board colleagues, members, and volunteers to issue an urgent call to action to the Federal Government, the province of Ontario and the City of Ottawa, to join the Ottawa Board of Trade as we declare Downtown Ottawa a top priority and commit to working with key stakeholders to build a roadmap for transformation based on a 5 pillar action plan created by the OBOT economic development committee.
Downtown Ottawa is the heartbeat of our whole region. What happens downtown has a direct and immediate impact on every business, every citizen, and every visitor. Without a focused plan, our current trajectory will negatively impact our property tax base and ability to provide key services like police and transit. Every resident in our region has a stake in the vibrancy of the city core.
We stand here today in front of the Jackson Building, one of the ten buildings identified for disposal by Public Services and Procurement Canada (PSPC). Pre-pandemic, this area was bustling with people. And while this building has not yet closed if we look around, we see empty store fronts, and little foot traffic. Clear testaments of the impact that a reduced office presence has had on our city core. And we know there will be even MORE buildings like this.
Recently PSPC announced they will reduce their office footprint by fifty percent across the country. While we are glad to see underutilized governmentbuildings being redeployed for better use, this announcement does not give local leaders, economic partners,and the private sector the level of detail necessary to plan for the most effective use of these assets. It breeds uncertainty which can be interpreted as risk. And capital does not like risk. Greater and ongoing clarity with cityand business leaders would allow for better planning and build investor confidence. We respect the government has a mandate to fulfil and we believe it can be done while also looking for opportunities to support the communities in which they are an anchor employer. In these uncertain times, we have been calling on every level of government to cultivate a predictable environment in which business can compete and grow. Clear communication and transparency are critical, particularly for areas that have been hardest hit.
Any private sector employer who has a footprint like our public sector does in Ottawa, would be expected to share a plan and have meaningful supports to ensure a smooth transition in the face of significant change. Our federal government has an obligation to assist Ottawa and Gatineau with real and meaningful transitional supports. Our federal partners must work with us on transitional programs and funding. Funding that is required in large part because of the hybrid work model that has been adopted and the resulting closure of federal buildings.
We are at a tipping point. Immediate action is needed to avoid any further hollowing out of the core.
A thriving downtown is fundamental to the cultural,economic, and social fabric of the entire region. It is integral tobuilding our brand as a place where people want to live, work, play, learn and invest.
The Canadian Urban Institute shares in their report, 'A Case for the Core' that "…everychallenge exposed by the pandemic … manifested most acutely in our downtowns." From inadequate housing to mounting mental health and addiction challenges for vulnerable populations, from transit funding and inequitable public realm investment to the mismatch between the responsibilities of municipal governments and the revenue tools at their disposal.
As the downtown economy with the highest concentration of public sector employment among large Canadian cities, Ottawa was hit especially hard these last three years. Notwithstanding this disruption, we view this time in our history as a unique opportunity to galvanize our community and reimagine the future of our downtown core in a way that we might not otherwise have contemplated. And that will prove to increase the vibrancy, diversity,and resilience of our city. Today and for generations to come.
To that end, we have engaged subject matter experts, convened stakeholders, and contributed to various discussions about the future of downtown Ottawa including MP Naqvi's Downtown Revitalization Task Force, the Mayor's Economic Summit, and the Ottawa City Building Summit. At the federal level, we have also been advocating for the development of a National Urban Strategy alongside our colleagues at the Canadian Global Cities Council, a coalition of the largest city Boards of Trade and Chambers of Commerce across Canada.
We recognize and commend all the great work that is underway including the City's new nightlife economy strategy and ByWard Market Public Realm Planas well as Ottawa Tourism's destination stewardship plan. We are pleased to see a deepened understanding of why a vibrant and diverse downtown Ottawa is so critical to the whole region.  However, the time has come for radical collaboration and the highest level of support from all governments and stakeholdersto avoid reaching a point of no return.
Given the strategic importance of our downtown, the Ottawa Board of Trade has adopted a 5-pillar action plan that will serve as the foundation of our economic growth agenda. Today, we invite business and community leaders to join us in this critically important work.
We are stronger together. The power of our collective focus is needed to advocate for key policy and regulatory changes, garner appropriate resources and build on the many strengths of Ottawa to leverage the opportunities before us.
The pandemic exposed some of our challenges. Yes. But it also showed us what we can do together when necessary – by being determined, and innovative and demonstrating the trust required to work quickly and collaboratively - within all levels of government to implement meaningful change. We need to lean on those lessons now to guide our future actions. Ones that will have us build a more resilient and prosperous core less we risk seeing the devastating levels of abandonment and disinvestment we've seen in some U.S. cities. Vacant buildings, shuttered businesses will cost every resident of our city - in lost economic activity, a loss of pride and an increase in property taxes across the board. The social and financial repercussions of inaction will be devastating to our region.
The transformation of downtown Ottawa requires a whole-of-community approach. Over the coming weeks, we will be inviting our public and private economic development partners, elected officials, and residents to join us as we identify the work and resources needed to support our plan which includes 5 pillars:
Creating affordable, walkable, amenity-rich communities
Flexible and efficient government regulation and approvals
Public and private investment in infrastructure
Supporting the growth of private and public sector employment
Ensuring the safety and security of employers, residents, and tourists
During our recent Ottawa City Building Summit, Mayor Sutcliffe reminded us that there is not a choice between economic development and other priorities because economic development is how we generate the resources that allow us to achieve our goals. We couldn't agree more.
Our downtown core is a critically important part of how we will shape the future of our city by building on current assets and integrating key objectives related to climate action, diversity and inclusion, economic development, health and social justice.
This is a rare and exciting opportunity to transform downtown Ottawa and let go of what is no longer working. We know it can be done. Others are already doing it.
Calgary began planning its downtown reinvention pre-pandemic because significant changes in the energy sector had led to a decrease in this industry's downtown workforce. The city launched its turnaround plan with 200 million dollars and intends to invest 1 billion in the next decade. Their plan is bold and required new thinking to implement it. A few years later, Calgary is being touted internationally as a model for transformation.
Across the pond, Paris is embracing the 15-minute city model.  Their approach will cut air pollution, improve their citizens' quality of life and help the city achieve its plan to become carbon neutral by 2050. Many global cities have made their commitment to recovery with significant investments in their downtowns and incentivizing heavily to attract business and talent.
It is time for us to be bold. The competition is fierce. Our businesses and citizens cannot afford to wait. Ottawa has an exceptional economic base from which to build. So, let's go!
Please join us as we build on our 5-pillar plan and develop a roadmap for the transformation of our city, one that creates vision, unity and allows us to move forward confidently. We are getting to work immediately and will host a summit, and provide an update with stakeholders at a downtown summit in the fall of 2023. Today, we are calling on all residents, businesses and in particular every Member of Parliament, MPP, our Mayor and City Councillors to join us and declare that downtown Ottawa is our top priority and needs help and support to keep it vibrant, safe and an economic engine for every part of the National Capital Region.
Now is the time to be bold. To be radically collaborative. And committed to transform the heart of our region. Canada's Capital is embodiment of the country itself. On the horizon is the future of a city and of a country. Together, we can make it happen. Thank you.
By the numbers:
Big city downtowns provide a disproportionate contribution to population, jobs, and GDP: Big city downtowns cover only 0.2% of the land area of their census metropolitan area (CMA) (on average), but they house close to 4% of the residential population, 17% of the jobs, and 15% of the GDP.[i]
In 2017, just 8 census metropolitan area (CMA) together accounted for 55% of Canada's GDP. And while downtowns are a subset of the entire CMA, the outsized contribution of large metro areas is evident. Downtowns are the nuclei of this activity and are the source of an outsized share of jobs, businesses, and economic activity for their cities, provinces.[ii]
[i] Canadian Urban Institute. Case for the Core, p11.
[ii] idem