What We've Done For Businesses In 2020
The Results of OBoT Advocacy, Collaboration and Leadership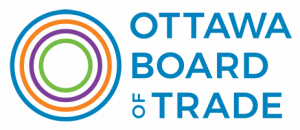 Engaged local business in key discussions related to relief policies and programs; informed decision makers through a series of letters, calls and meetings, including identifying issues facing business and recommendations on program changes
Joined the City of Ottawa Economic Partners Task Force with key local stakeholders including but not limited to Invest Ottawa, Ottawa Tourism and OCCBIA
Joined the Canadian Global Cities Council with Chambers of key urban areas across Canada, including Vancouver, Calgary, Edmonton, Winnipeg, Toronto, Montreal and Halifax
Met weekly with the Ontario and Canadian Chambers of Commerce and key politicians and stakeholders at the provincial and federal levels of government
Met weekly with key stakeholders, including Gatineau Chamber of Commerce, RGA, Invest Ottawa, Ottawa Tourism, BIAs and local political representatives
Met weekly with our Board of Directors as well as local business leaders and volunteers through several committees, including but not limited to SME Council, CEO Council, Talent Committee, Economic Growth Committee, Environment and Sustainability Committee, Transportation and Infrastructure Committee
Met with stakeholders on key local initiatives: Ottawa Festivals, Ottawa Employment Hub, Skills Catalyst, Making It In Manufacturing, Ministry of Labour, Hire Immigrants, Building LeBreton
Presented at events, interviews and roundtables, including the Ontario Standing Committee on Finance and Economic Affairs, City of Ottawa Economic Partners Update and pre-budget submissions to all levels of government
Worked with stakeholders on key issues including elimination of internal trade barriers, advancing women, responsible business reopening and small business support
Hosted several townhalls, webinars and meetings with key business, community and government leaders including but not limited to Mayor Watson, Dr. Etches, Minister Lisa MacLeod, Minister Merilee Fullerton, Minister Mona Fortier, Minister Mary Ng, Minister McKenna, MP Marie France Lalonde, Minister of Finance
Partnered with corporate leaders on programs that highlighted and supported local, small and medium enterprises, including the Business Hotline, Facebook Grants, Canadian United and the City of Ottawa Buy Local Campaign
Partnered with Chambers across Canada and national associations to roll out the POST Promise to encourage business, consumer and workforce confidence
Partnered with Ottawa Public Health to align and amplify key messages regarding being COVID Wise and COVID Kind and deliver the Business Reopening Workshops along with the Ottawa Coalition of Business Improvement Areas
Shared information and promoted member businesses through newsletters (over 70) and on social media platforms (over 3,500 posts)
Launched business programs: Ottawa Business Peer Groups, Recovery Activation Program and Trade Accelerator Program, Student Work Placement Program, Fan Saves Digital Platform
Hosted a broadcast called Ottawa Stronger Together to celebrate local business and recognize Ottawa's Top Forty Under 40
Hosted a sold-out golf tournament with modifications to ensure safety, facilitate networking and provide an outdoor day of fun and exercise
Launched the sixth annual Ottawa Business Growth Survey with Ottawa Business Journal and Welch LLP;

 

hosted an event with keynote guest Michele Romanow
Launched Capital Magazine, Ottawa's Business Magazine, with a focus on Diversity and Inclusion.
Conducted over 150 one-on-one meetings with OBoT members for onboarding, maximizing their memberships and addressing key issues
Launched the #OttawaNEXT portal to help businesses overcome information overload about COVID-19, economic recovery strategies, and what support is available:

www.ottawanext.ca

.
---
We are YOUR Ottawa Board of Trade: Advocating, Building, Championing, and Driving RESULTS that help businesses launch, pivot, recover, grow, and thrive.