Mayor's Breakfast September 2023: Fireside chat with Pierre Dorion
The Mayor's Breakfast series, hosted by the Ottawa Board of Trade (OBOT) and Ottawa Business Journal (OBJ) brings Ottawa's business community together to make connections and contribution to key conversations about city building, community prosperity and our growth agenda.
Sueling Ching, President and CEO of OBOT, welcomed business and community leaders to the first Mayor's Breakfast of the fall season. She kicked off the sold-out breakfast with an update on what OBOT has been working on over the summer.
"Along with our partners at OBJ, we co-hosted our 26th annual Forty Under 40 awards gala recognizing Ottawa's best young leaders as well as our annual golf tournament. Between these two events, our business community donated over $26,000 to Junior Achievement Ottawa, investing in our next generation of entrepreneurs.
The board of trade continued our policy work in partnership with the Ontario Chamber, releasing two briefings: Home Stretched - outlining recommendations on tackling Ontario's housing affordability crisis and Power of the Purchase Order - with 23 recommendations on how to rethink procurement to unlock better outcomes for our economy, environment, and our small businesses. We continued to work with local stakeholders, government, and urban experts to develop a recovery strategy for our downtown core that includes recommendations for every level of government and our business community to work together on a roadmap to transformation.
Finally, we launched a new offering - OBOT Pillar Partners, an elevated way for members to contribute to our advocacy and economic development work, to further strengthen the voice of business during these changing times. We are very grateful to our inaugural partners - Meridian Credit Union, Colonnade Bridgeport, the National Capital Commission, Enbridge Gas and QuadReal Property Group for their support in our business community.
Guests then heard from Mark Fernandes, Chief Information and Technology Officer at Hydro Ottawa as he shared more about Hiboo Networks, an affiliate of Hydro Ottawa Holding, that provides internet and connectivity services to businesses in the Ottawa Gatineau region.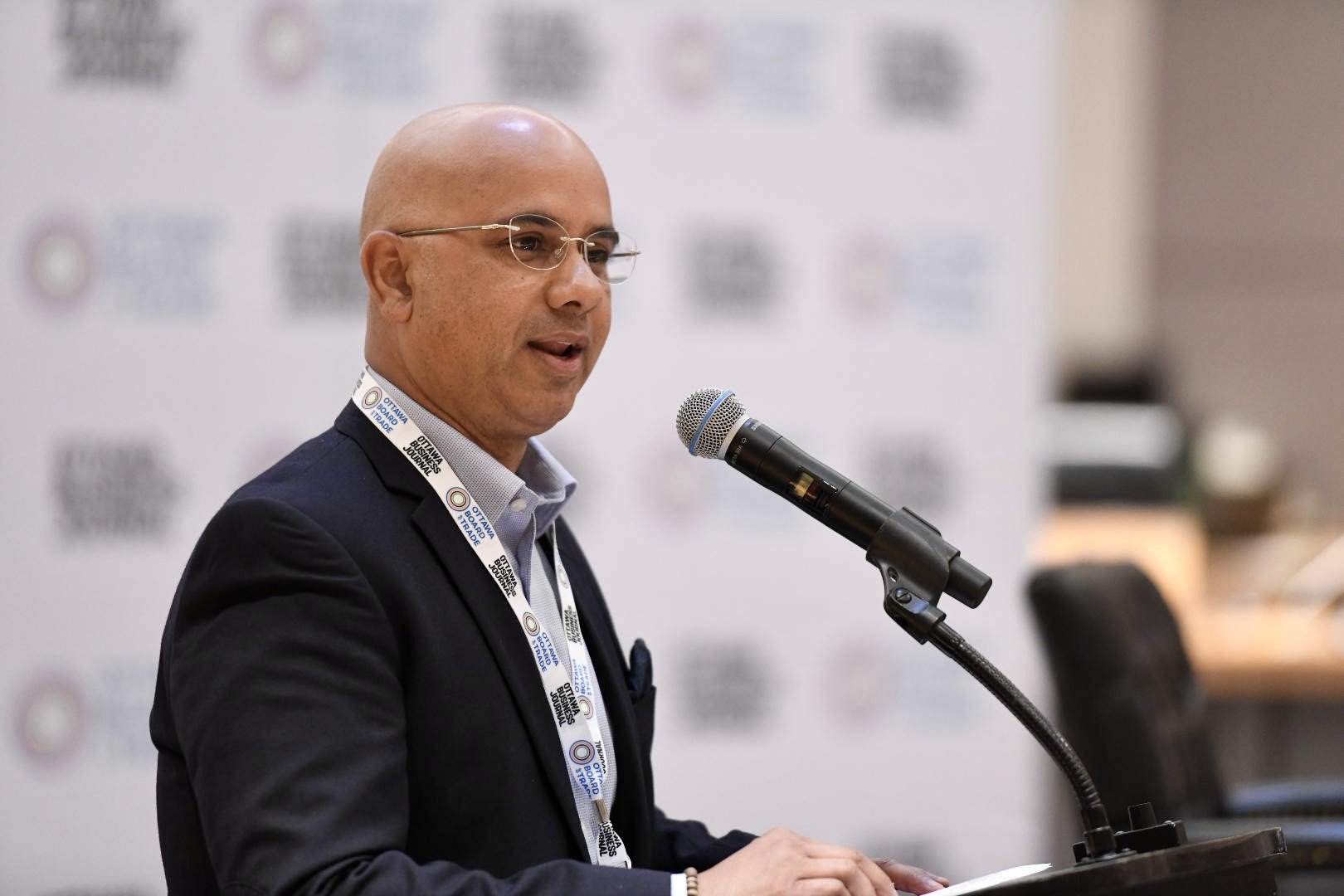 This month we were pleased to invite Michael Andlauer as the new owner of our beloved Ottawa Senators. With the sale still being finalized, Andlauer's engagement was postponed to a future event. We were grateful to the Senator's General Manager, Pierre Dorion, Dorion for joining us and sitting down with Mayor Mark Sutcliffe in a compelling fireside chat.
Ahead of their chat, Mayor Sutcliffe joked about the delay of the sale being a part of a 5-step plan to get Dorion to sit down with him for an in-depth conversation, saying "Step one, I had to run for Mayor. Step two, I had to convince Michael Andlauer to buy the Ottawa Senators. Step three, ask Andlauer to be the guest at the Mayor's Breakfast. Step four, get the NHL to slow down the paperwork for the sale of the team just long enough that he had to postpone his appearance with us. And then step five, ask Pierre to jump in for him. So here we are today."
Mayor Sutcliffe kicked off their chat by asking Dorion about growing up around sports and how it led to his career in hockey. His father was actively involved with professional sports, at one point working for the RoughRiders as a statistician before becoming a head scout for the Toronto Maple Leafs. "I was fortunate enough that we were very close, and I got to travel with him at times and go scouting with him. We both loved sports and we got to spend a lot of time together, which gave me a great foundation for what I've become today."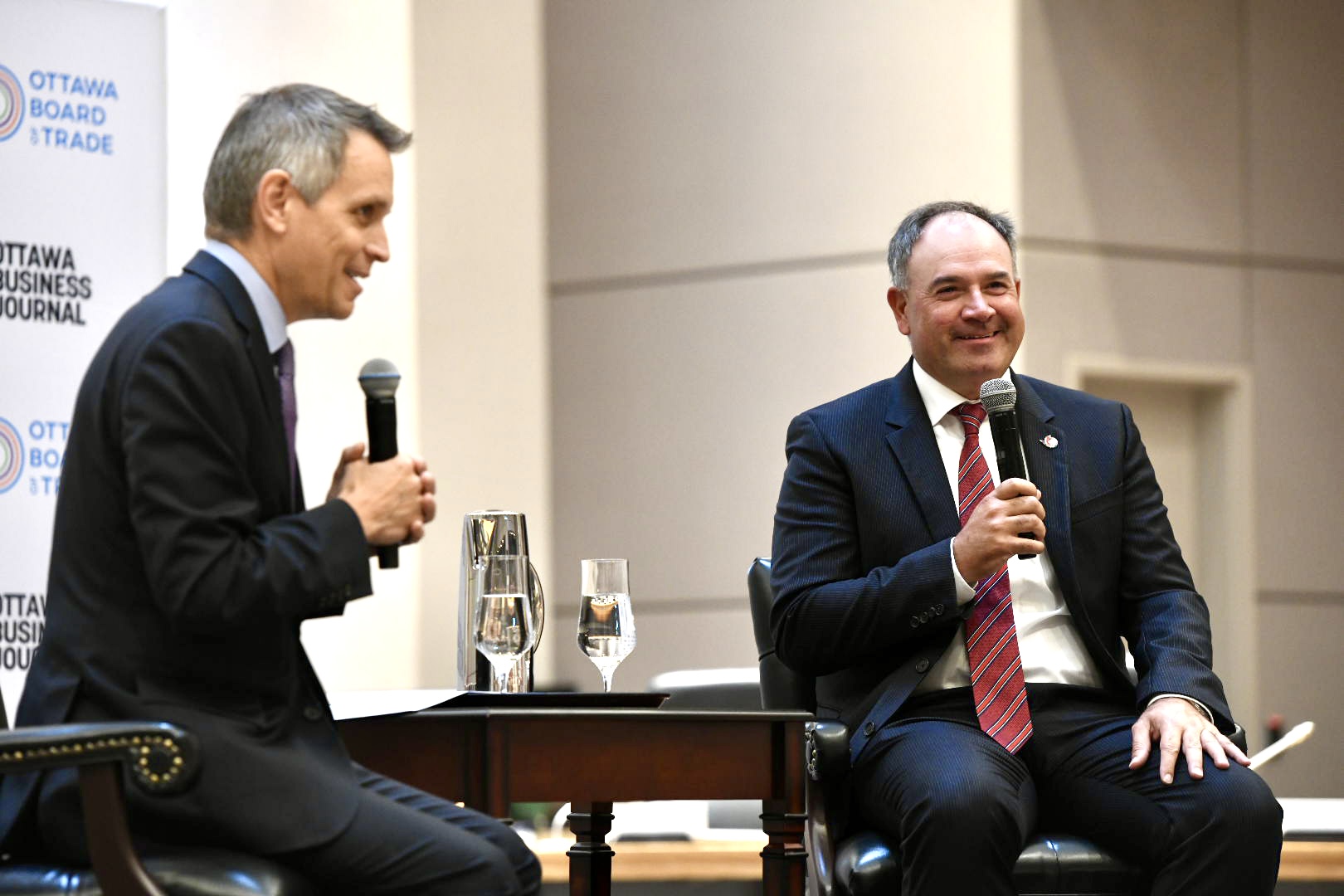 Continuing the discussion of how his career started, Dorion shared what attracted him to becoming a scout, saying "When we took Erik Karlsson, Bryan Murray, who I put him in the same category as my father as my two heroes, turned to me and goes 'Pierre he's 5'10 and 159 lbs, how long do you want to work for me?' And I said after this pick I'll work for you for a long time. It's exciting to see these young people mature and become really good NHL players down the road."
They went on to talk about the Senators involvement in the city. Dorion emphasized the importance of giving back, because we all grow as a community because of it. From an economic development perspective, the tourism industry, community building, and support for young kids, there are so many ways that a sports franchise can have an impact on a community.
Mayor Sutcliffe wrapped up their conversation by asking Dorion what he was excited about for the upcoming season. "I know our young core has brought their game to the next level. We finally have a team that is just a really good hockey team. I think people are going to be excited by what we put on the ice."
To close the event, Michael Curran, Publisher of OBJ provided an update from the media organization, including the upcoming launch of OBJ's fall issue, the approaching deadline to submit BOBs nominations, and a reminder to register for our upcoming events the Talent Summit and Best Places to Work Expo on September 28. Stay tuned for more events coming this fall!
Watch the full chat here: