Welch Business Growth Survey Launch
On June 7th, the Ottawa Board of Trade (OBOT) and Ottawa Business Journal (OBJ) hosted the Welch Business Growth Survey (WBGS). The annual business survey provides accurate and timely data which is key to ensure the best decisions are being made for our businesses, community, and city. The results directly impact the advocacy OBOT does on behalf of our members and business community.
At the breakfast event, Dana Brown, Dean of Sprott School of Business, welcomed business and community leaders to the Nicol Building by saying, "This space is a place for the business community to gather and encounter the next generation of business leaders in our city."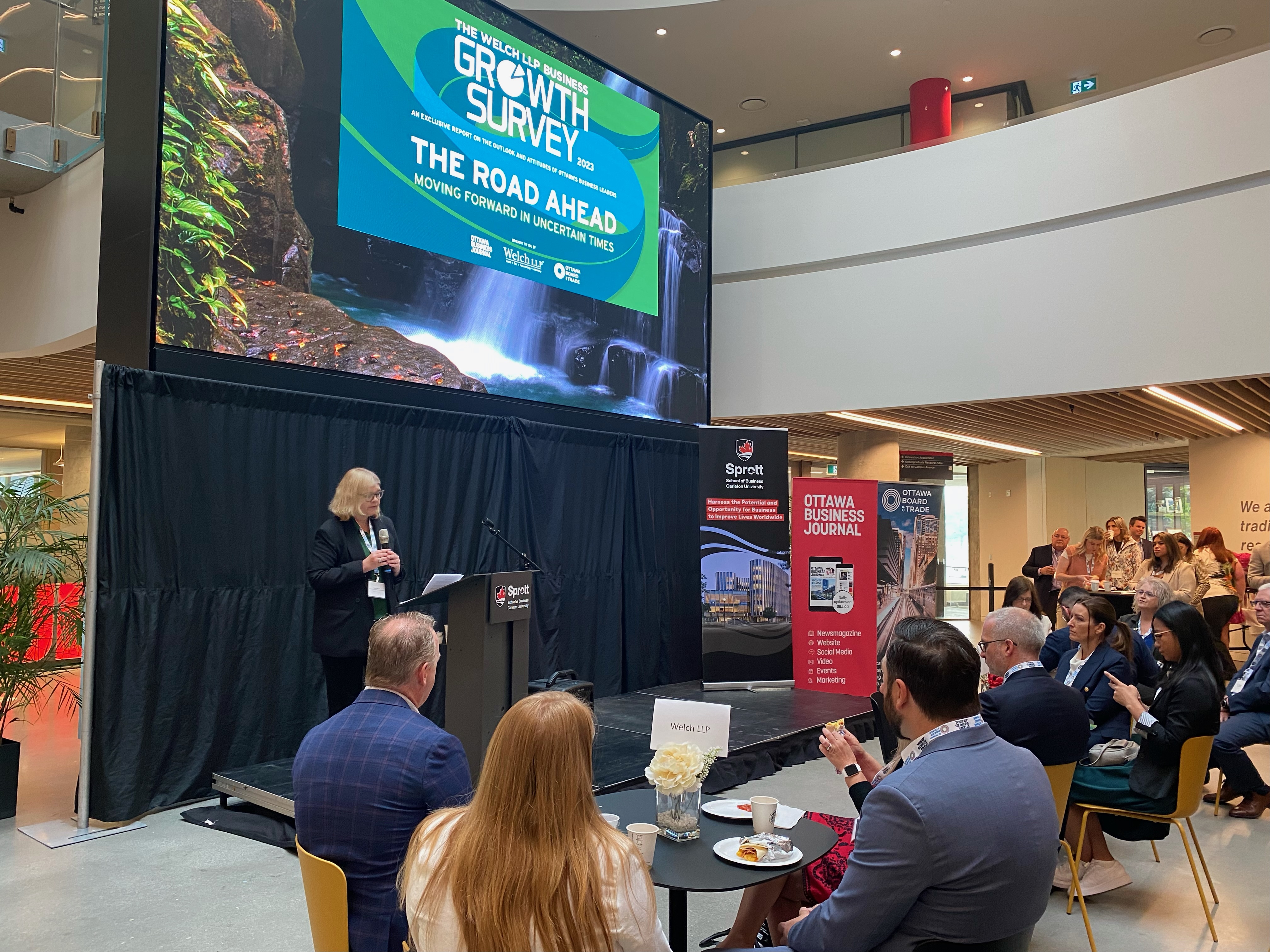 In her remarks she acknowledged Indigenous History month and encouraged attendees to join her in learning about the rich culture and history of Indigenous peoples of Canada. There is so much to learn about Indigenous ways of knowing and being, including ways of thinking about the intersection of business and society. She continued, "June also marks the beginning of Pride season, a time to celebrate the contributions of the 2SLGBTQ+ community here in Ottawa and Canada. Recent events in the world remind us that we all have a more to do to eliminate discrimination and to harness the greatest potential of the talent we have in our community. Together business and education can lead the way and create an inclusive and safe environment in which everyone can prosper."
We then heard from Anne Howland, Editor in Chief of OBJ, and David Coletto, CEO and Founder of Abacus Data who shared insight into the results of the WBGS and the confidence of businesses in our local economy.
While 43 per cent of businesses expect the market for their sector to improve, only 16 per cent say their confidence in our local economy has increased. Overall Ottawa's Business Confidence Index is sitting at 108 for 2023. Consumer and business decisions are driven by our perception of what's to come. We're starting to see some friction from a lot of businesses who aren't certain about what the future looks like.
Confidence has also been impacted by the different barriers businesses in Canada's Capital Region are facing. There are many factors impacting growth, including the mismatch between talent pool and business needs (29 per cent), availability of skilled tradespeople (23 per cent), and government red tape (23 per cent).
To that end, 43 per cent of businesses who responded plan to recruit new employees into 2024. David shared two key reasons why recruitment has stalled for Ottawa companies. He said, " First is the uncertainty around the economy, if you think the market is not conducive to growth you may not intend to grow. Labour shortages are also impacting businesses, the perception of if you may not find the people you need, you may no longer plan to recruit them, looking for alternative ways to stay productive or use more automation. Although we're seeing the labour market soften, depending on the sector you're in it can be a challenge to find skilled labour."
The WBGS report The Road Ahead: Moving Forward in Uncertain Times is available to read now in both English and French here.
Following David and Anne's deep dive into the results, Goldy Hyder, President and CEO of the Canadian Business Council of Canada joined Sueling Ching, President and CEO of OBOT and Chris Meyers, CPA, CA, Partner at Welch for an interactive discussion.
When asked about the theme of the report, Moving Forward in Uncertain Times he said "One of the things that is changing times, we've gotten away from what got us here, which is the will and the initiative to overcome and do things." He continued by talking about how good government regulations work for society, keep people safe, and give you the confidence to invest. But we're in a country that has interprovincial trade barriers, we no longer build trade enabling infrastructure for a country that is reliant on trade. We hedge, must diversify, and optimize the trade agreements in place.
Later in the conversation when asked about immigration, Goldy said, "The mobility of talent is so great, it's not enough to just say 'Canada is a great country, we have multiculturalism and hockey.' People are doing their research and looking at things like quality of life, competitive salaries, and benefits." He went on to talk about how the immigration backlog is impacting the level of talent coming into the country by saying, "if you're building the next Unicorn, you're not waiting for four months to get a visa, your too ambitious and eager to get going. This is a competitive landscape."
Michael Curran, Publisher of OBJ, closed the event by providing a reminder of our upcoming events. For more information about the Forty Under Gala, June Mayor's Breakfast, and Ottawa's Best Networking Golf Tournament, please click here.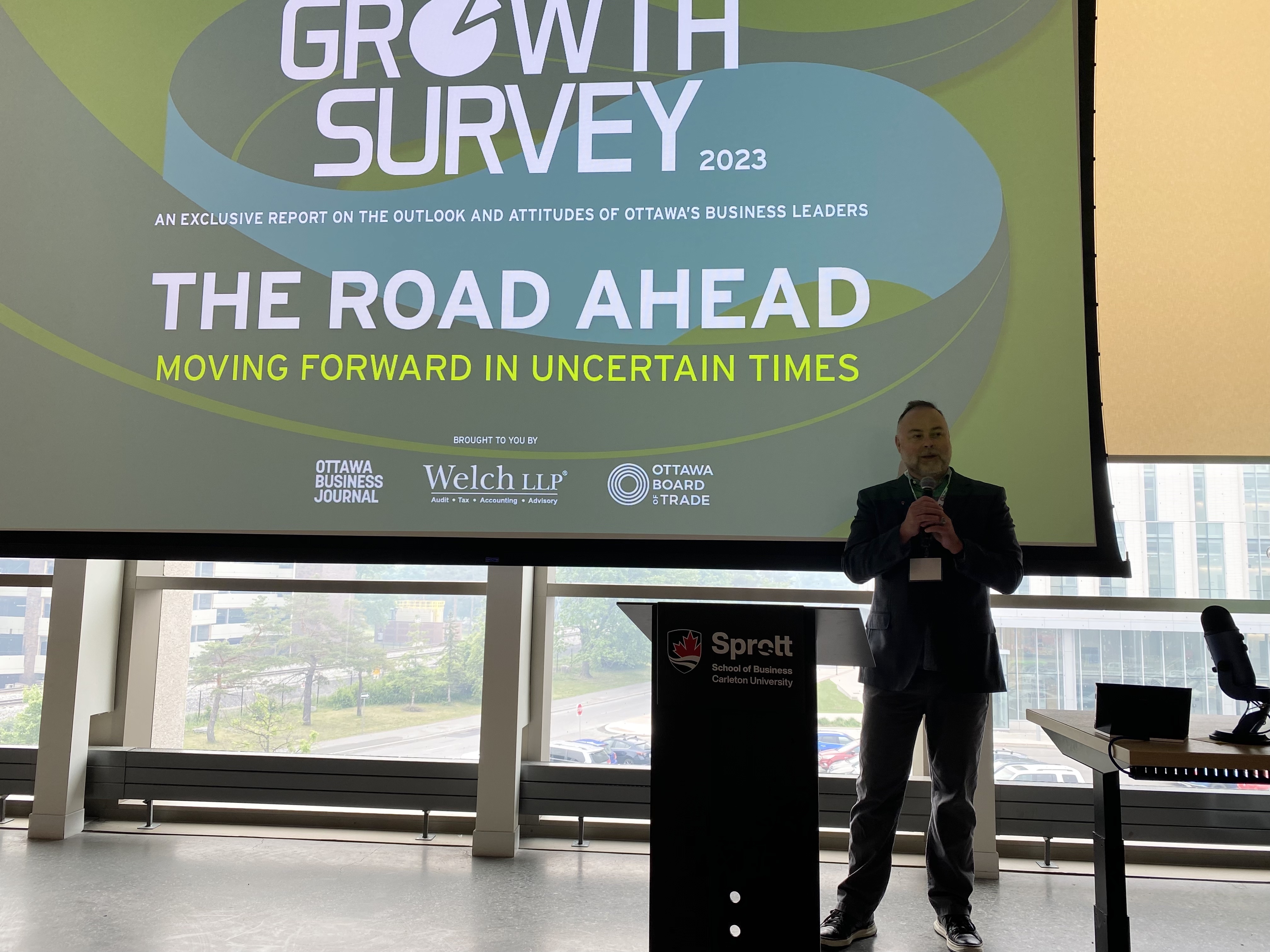 Thank you to our sponsors Welch LLP, Commissionaires Ottawa, Sprott School of Business, Perley-Robertson Hill & McDougall LLP, RBC, TAG HR, and Le Regroupement des gens d'affaires for their support with this year's report.