City Building Summit Wrap Up
The Ottawa Board of Trade (OBOT) and Ottawa Business Journal (OBJ) were pleased to host our annual City Building Summit on April 25th in downtown Ottawa. Business and community leaders gathered at the Shaw Centre to join the conversation about our city's collective future.
Sueling Ching, President and CEO of the Ottawa Board of Trade started the morning by welcoming attendees to the this year's summit. In her remarks she highlighted the challenges our city has faced over the last three years and the importance of convening local leaders to talk about the things we CAN do together to build up Ottawa.
At OBOT, in addition to advocating for policies that create a competitive business environment, we are focused on priorities that protect and enhance our quality of life for the long term. We know that a vibrant downtown, an integrated transit system, affordable housing, world class health care and quality education attracts the investment and talent Canada's Capital region needs to reach its full potential and tackle the biggest challenges in our communities.
She welcomed Mayor Mark Sutcliffe to the stage to kick things off. His worship expressed how exciting events like these are because it's an opportunity to talk about the future of our city and how we're going to get there.
Mayor Sutcliffe shared that over the last few months, "I've met with seven different groups who are interested in buying the Ottawa Senators. There are seven different groups that see our city as a place to invest in our community, build a future, and win a Stanley Cup."
He finished off by praising the residents of our city - We're a city that cares, one that volunteers its time, and invests in itself.
We then went into our first session of the day, Revitalizing Downtown, with Stéphen Déry, President and CEO of Canada Lands Company, Mary Rowe, President and CEO of Canadian Urban Institute, and Stephen Willis, Senior Principal, Discipline Leader, Urban Planning with Stantec (Canada).
In the session, Mary Rowe referenced lyrics from the song Downtown by Petula Clark "when you're alone and life is making you lonely, you can always go downtown." In the 80s there was a shift from downtown's being a unique place in cities where things were always happening, to a place with office buildings where people went to work. We're now seeing a need to reimagine and revitalize the downtown core to attract residents and tourists alike. Downtowns must be part of a larger strategy, economically the downtown core matters for our city.
When asked about what opportunities they each see for revitalizing Ottawa's downtown, a common theme was the opportunity for change. Déry highlighted our city's reputation as an office city, we have an opportunity to change that narrative. Willis expanded on that idea by acknowledging that cities reinvent themselves. We have to prioritize progress, our solutions can be messy and creative, and we must remain open minded. Rowe expressed the need to find a made in Ottawa solution and to find ways to make it easier to do unusual things.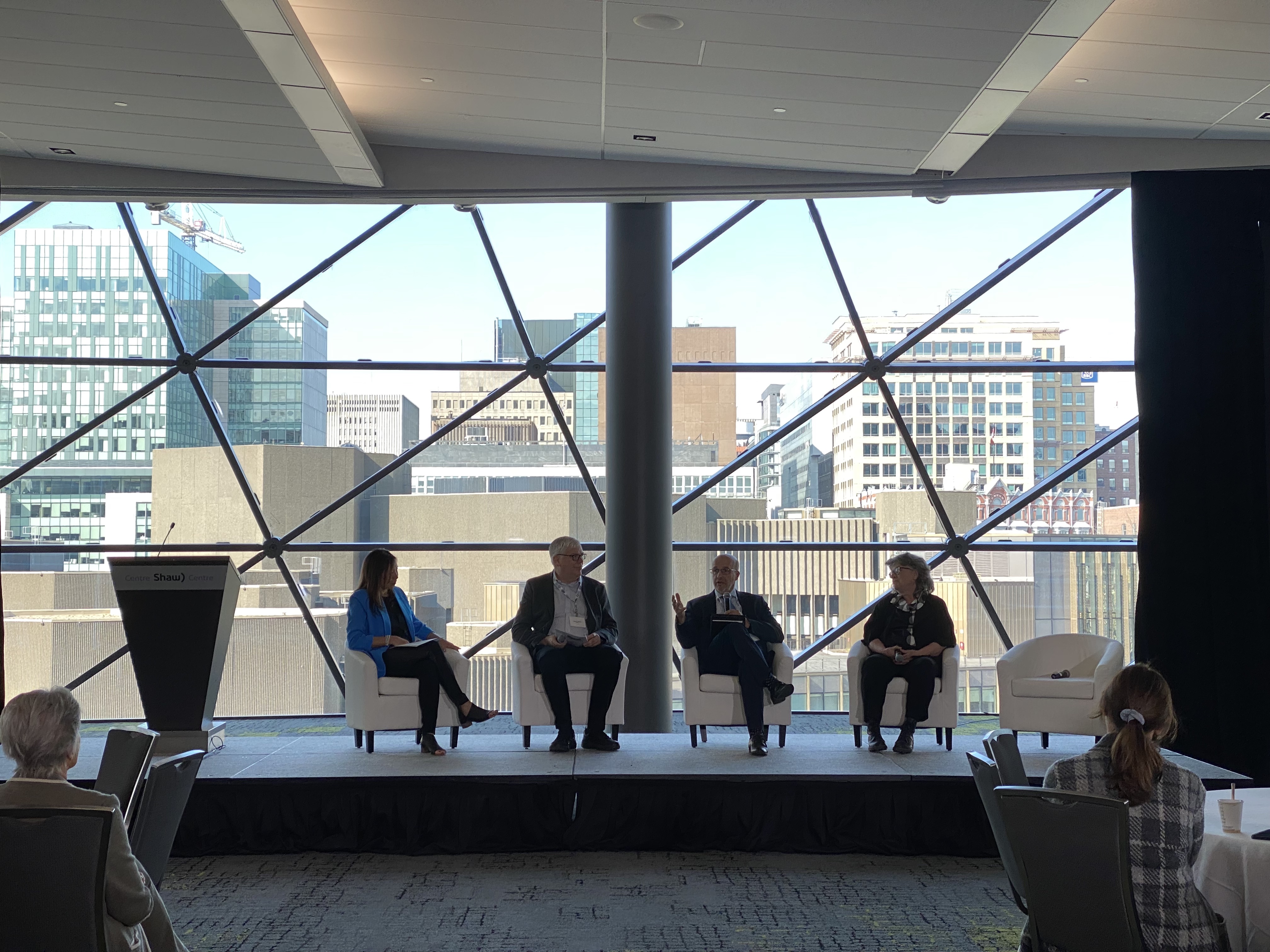 Following a short networking break, we heard from our first sponsor of the day, Simon Comtois, Vice President of Design and Construction at the National Capital Commission (NCC) introduced Session Two: Driving Growth. In his remarks he talked about the upcoming major capital projects the NCC is investing in. Through projects like the Westboro beach redevelopment, Lady Grey Drive, and the Rideau Canal lighting rehabilitation, the NCC is working to Build Up Ottawa and create a vibrant and inclusive world class city.
Comtois introduced the second session of the day, Driving Growth. Sheilagh Doherty, Program Manager, High Economic Impact Project from the City of Ottawa provided an early look at some of the key findings that will inform the City's economic development strategy, which will set the stage for economic growth and prosperity. The focus of this strategy, which will be brought forward for City Council approval in Q3 of this year, has shifted from the City and partner led Economic Recovery and Rebound Program to a post-pandemic economy with new challenges and opportunities.
Key themes that will inform the strategy include:
City Building Projects – advancing projects that enable long-term economic growth, culture, tourism, and the attraction of investment and talent
Downtown and the ByWard Market – reimagining and revitalizing Ottawa's downtown and the ByWard Market to increase economic growth and resiliency, and enhance livability, safety, cultural vibrancy, tourism, and placemaking
Talent – attracting, retaining, and developing talent to meet Ottawa's current and future workforce needs
City Branding – advancing place branding efforts to grow Ottawa's reputation and attract and retain investment, talent, immigrants, students, and visitors
Transportation – enhancing transportation connectivity and access for residents, businesses and visitors to and from Ottawa
Business and Sector Support – supporting new and existing businesses, entrepreneurs, and knowledge-based, tourism, and creative industries
Partnerships and Collaboration – collaborating with partners, stakeholders, and other levels of government to advance economic priorities and cultivate one economic region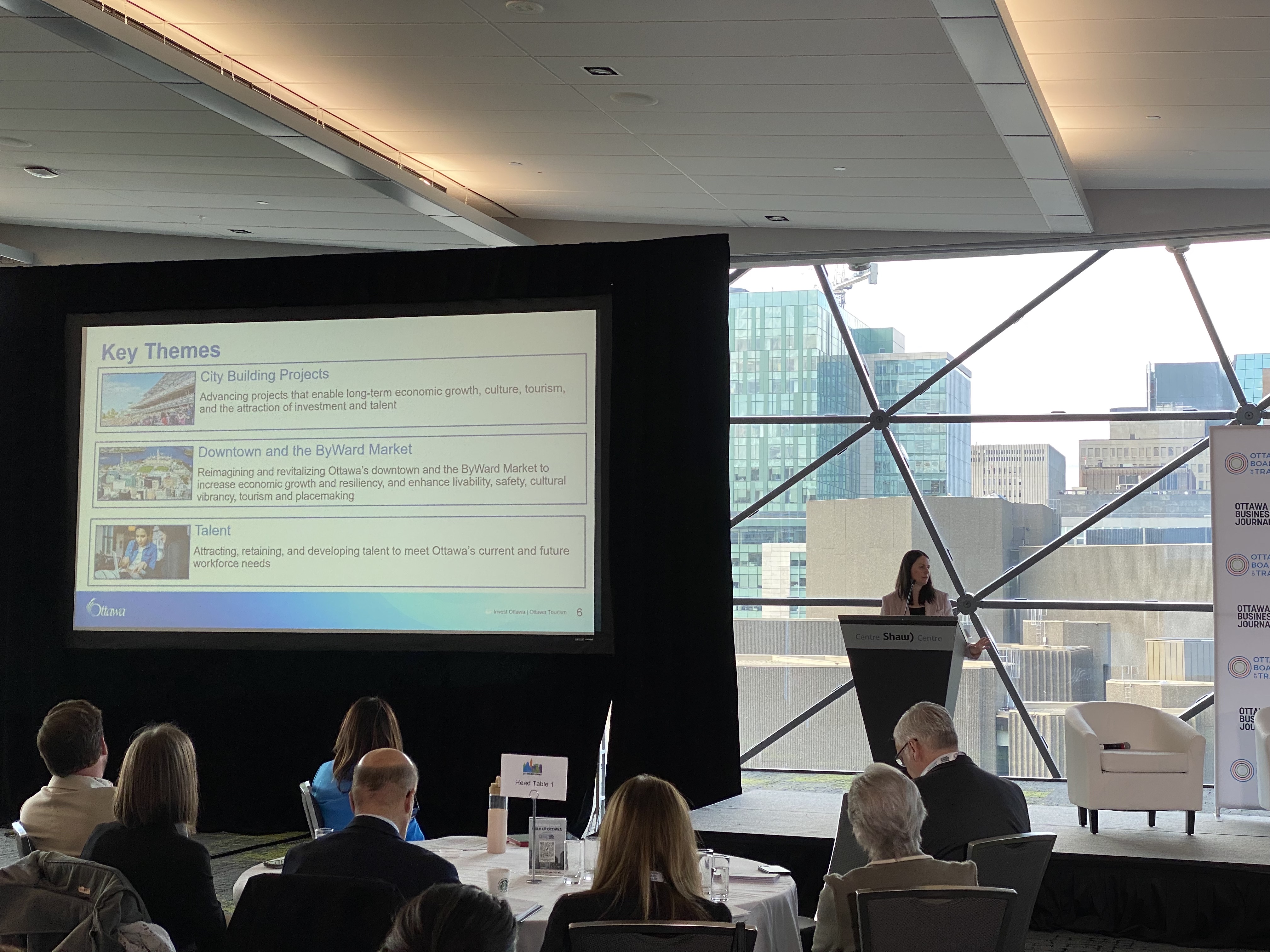 Following Doherty's presentation, we heard from Catherine Callary, VP, Destination Development at Ottawa Tourism, Sonya Shorey VP Strategy, Marketing and Communications at Invest Ottawa, and Cindy VanBuskirk Program Manager, High Economic Impact Projects with the City of Ottawa in a panel discussion.
Our panelists discussed the collaboration between the City, businesses, organizations, and residents Ottawa throughout the pandemic, and from it initiatives like Buy Local Ottawa and the Economic Partners Task Force were created. The partnerships and radical collaboration that bloomed over the last few years must continue and keep that momentum going.
They also expressed the need for a shared vision where everyone can see themselves and has the opportunity to contribute. It will require continued communication, collaboration, and the acknowledgement that we need to be agile. We won't always get it right the first time, but we have to do something. Sueling Ching, who moderated the panel, added that there is an urgency in Ottawa, we need to prioritize progress over perfection and use this to be more action focused.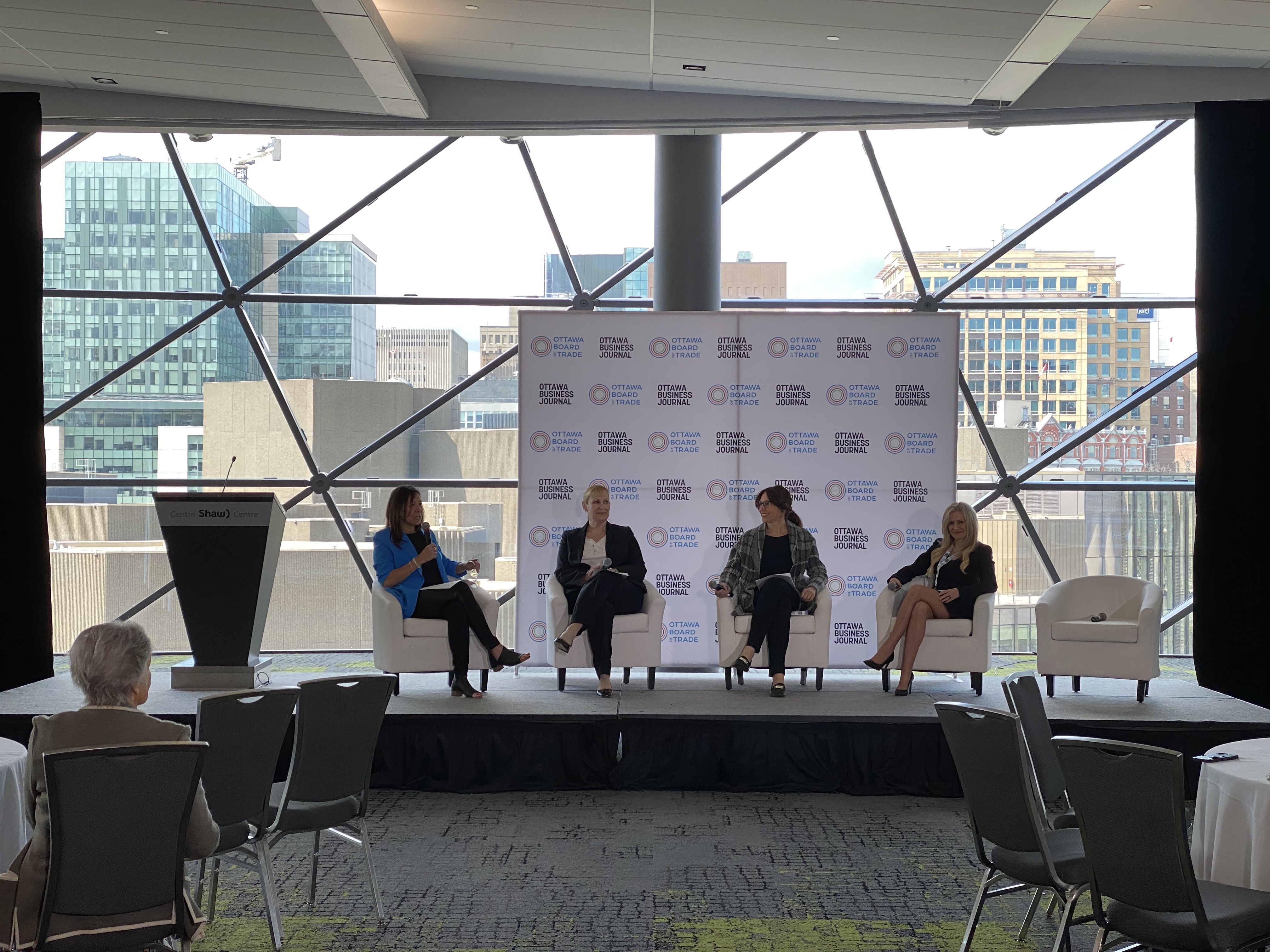 Attendees heard from our next sponsor, Sachin Anand, Senior Director of Acquisitions at Regional Group where he introduced Session Three: Creating Quality Life. He shared the family-owned business' philosophy "our legacy is your future" and presented the idea of what cities can do to enhance the quality of life as an economic driver. In their mini presentations Jason Burggraaf, Executive Director of Greater Ottawa Home Builder's Association, Kaite Burkholder Harris, Executive Director at Alliance to End Homelessness Ottawa, Jennifer Armstrong, Program Manager, Transportation Policy and Networks at the City of Ottawa, and Dr. Vera Etches, Medical Officer of Health at Ottawa Public Health each aimed to tackle that idea.
Key takeaways from each included:
Not only will building and renovating homes add to Ottawa's economy, it will also provide a range of housing and lifestyle options for residents to attract and retain talented people, businesses, and economic development opportunities.
Building 15,000 new homes isn't something that would be nice to happen, it's something we can't live without.
Taking steps to address and solve homelessness can fix a lot of seemingly unrelated problems. Ottawa can be a world class city where everyone can afford to live and thrive.
Policy in action – the City is taking advantage of planned construction work to create 'complete' streets that offer safety, comfort, and mobility for all users
What does the future of transportation look like in Ottawa? It is healthy and equitable, resilient and responsive, sustainable and affordable, and provides people with choice.
A healthy and thriving population is needed to drive economic growth and in turn that growth drives the capacity to address other priorities across the city
After lunch, City Building Summit sponsor, Guy Somers, VP of Land Development and Municipal Engineering – Ontario at WSP Canada, kicked things off with a short presentation about the work they are doing to be future ready. Innovative solutions need to be included throughout the life of a project, what we're building has to be built to last. He also introduced Dr. Mike Moffatt, Senior Director of Policy and Innovation at Smart Prosperity Institute, who delivered the keynote presentation on the future of cities.
Population growth in the Ottawa region has stalled for a multitude of reasons including surging home prices and the mobility of families due to the flexibility of work. Recent trends in inter-provincial migration show that there has been an exodus out of cities to small and midsized communities. Moffatt went on to say that "leavers are disproportionately young families looking for attainable housing, quality of schools and child-friendly amenities, and safe streets. Creating child-friendly communities with attainable housing must be part of any labour attraction and economic development strategy." High housing prices act as a 'payroll tax' for employers – they need to offer higher wages to young mobile workers in order to compete for talent.
He also added that a boom in international students is driving population growth in some mid-sized cities. Today's international student is tomorrow's permanent resident and a big source of talent for businesses. We need to work with post-secondary institutions on initiatives like Hire Local and work to retain talent, and residents, in our city.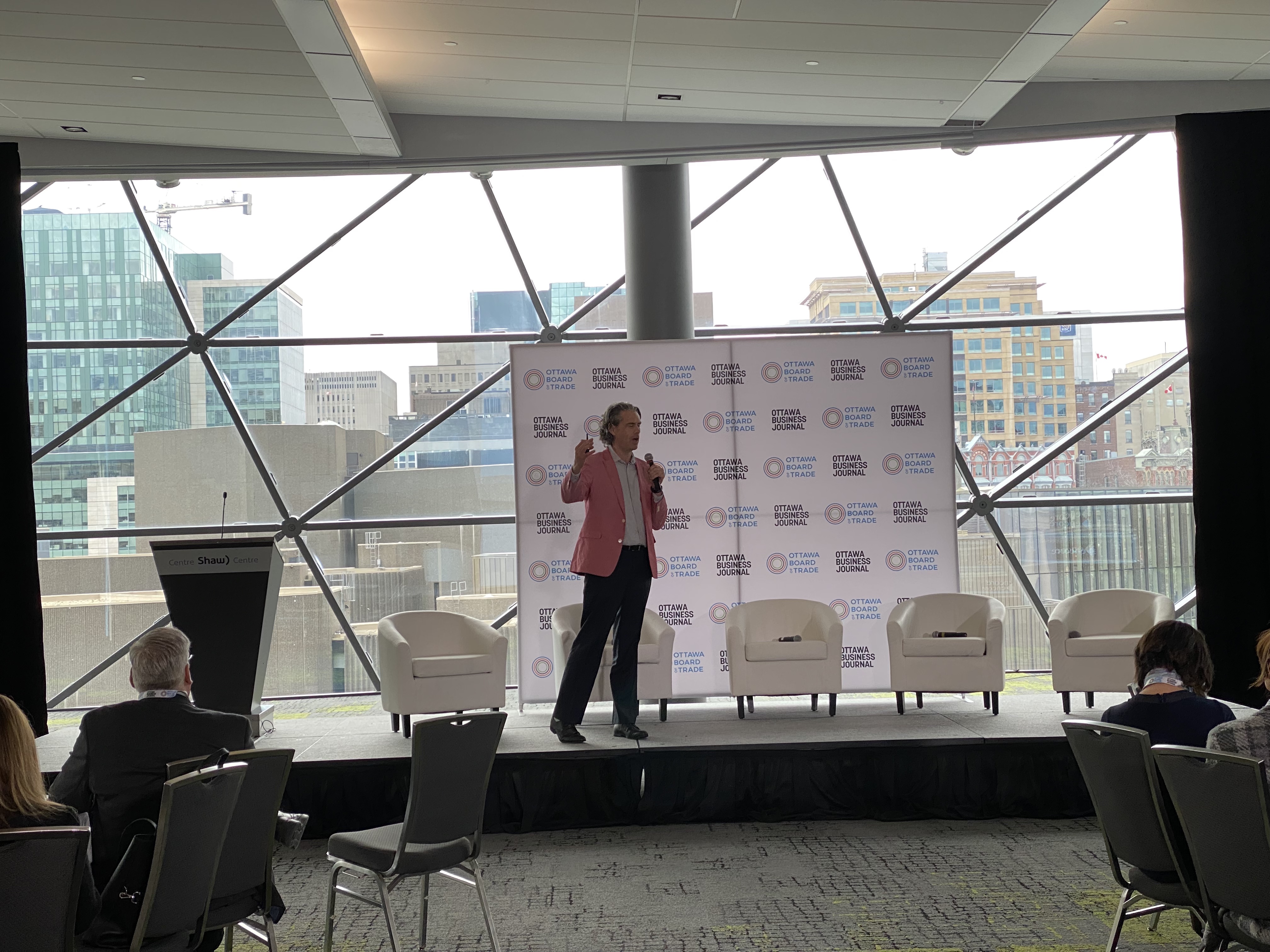 Ahead of the final session of the day, Investing in Innovative Infrastructure Investments, guests heard from panel moderator and event sponsor Jeff Westeinde from Zibi Canada, who talked about the work they're doing to ensure if you choose to live, work, or play at Zibi you will be healthier, happier, and have a positive impact on the environment while doing it.
High impact projects form the foundation of our city's long-term prosperity and world class status with countless economic, social, cultural, sustainability and inclusivity benefits. With this in mind, Katie Paris, Director, Building LeBreton at the NCC, Mark Goudie, President and CEO at Ottawa Sports and Entertainment Group, and Court Curry, Manager, Right of Way, Heritage and Urban Design at the City of Ottawa looked at three key high impact projects happening across Ottawa.
In her presentation, Paris highlighted the LeBreton Flats Master Concept Plan, which presents a vision for an ambitious, sustainable new community and destination like no other in Canada. She said, "Adjacent to the Ottawa River waterfront, with access to abundant parkland and space for new cultural institutions, LeBreton Flats offers an opportunity to be part of building something bold and innovative." The public benefits of the project will also extend to significant positive economic impact, broadly for every dollar of investment spent on developing LeBreton, $3.57 in economic impact will ripple through the Canadian economy.
Up next Goudie provided an update on Lansdowne 2.0. As the home to the REDBLACKS, 67s, BlackJacks, and Atlético, Lansdowne is the hub of sports in Ottawa. The plan currently includes the replacement of the current North Stadium stands and the addition of high-density rental and owned residential units including affordable housing, and additional destination-based retail. The current proposal will not only promote a sustainable live, work and play philosophy, it will transform Lansdowne into both a civic gathering place and a 15-minute neighbourhood for residents.
Curry rounded out the presentations with an overview of the ByWard Market revitalization. Not only is ByWard a draw for tourism, it also has the history and heartstrings of Ottawans. In 2020 City resources were pivoted towards pandemic support and economic recovery, we now have more flexible tools and tangible resources to support our main streets. The City is level-setting the agenda for the area, starting with the creation of the ByWard Market District which will be composed of a working group of key stakeholders within the community. Curry also teased what could be coming to the neighbourhood. Ideas for the parking garage at 70 Clarence Street included a food hall like in Spain or a mid-sized concert hall to round out Ottawa's music scene.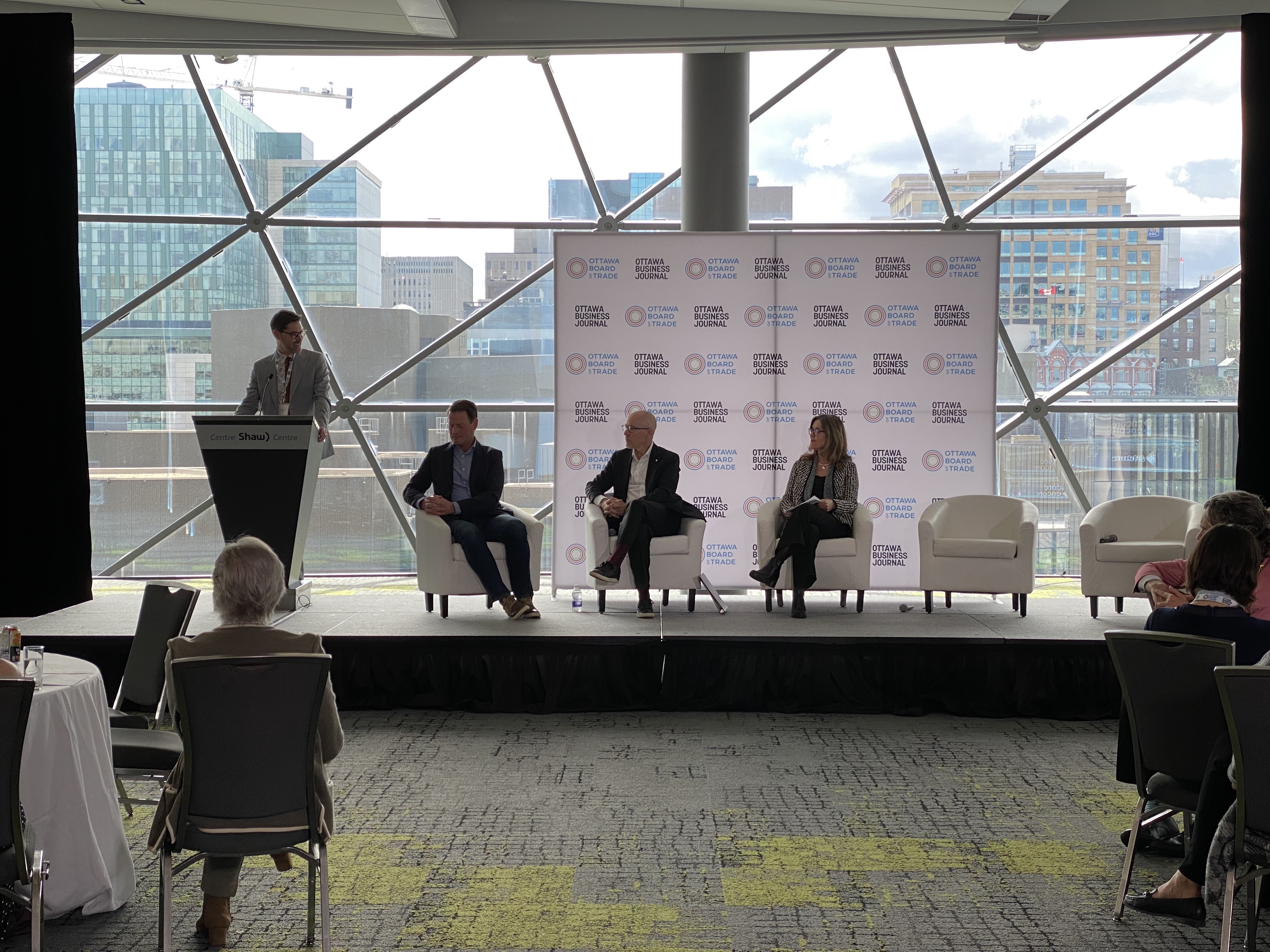 To close the event, Michael Curran, Publisher of OBJ, and Sueling reflected on the day. They expressed a need to embrace the opportunities our city has, continue the conversation after the event, and find ways to get involved. Advocate for policies, projects, and resources that will improve quality of life in our city and drive economic growth. Sit on Boards or volunteer your time with organizations moving the needle forward. Participate in events like the City Building Summit and invite everyone into the conversation about the future of Canada's Capital region and how we can Build Up Ottawa.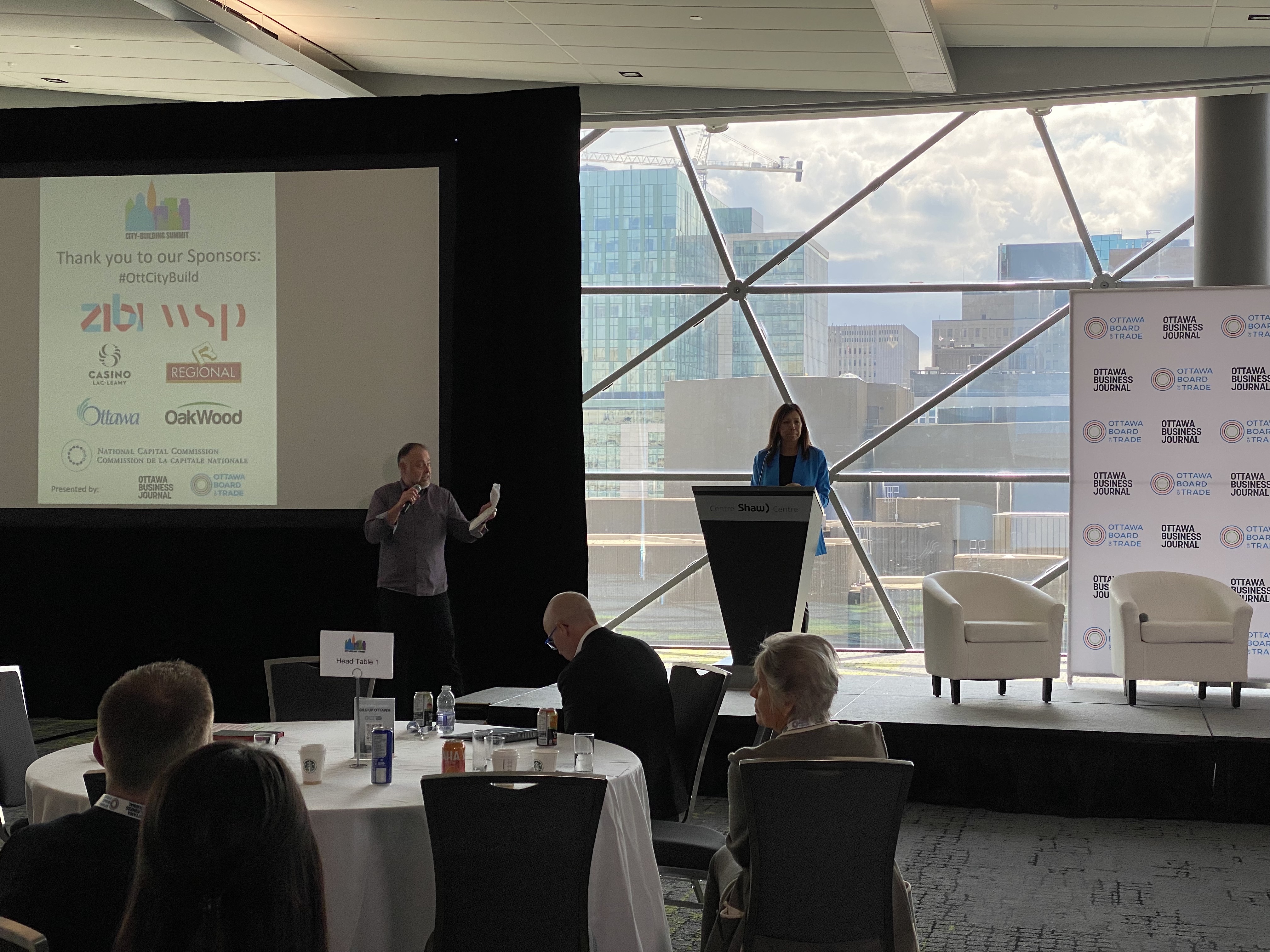 A sincere thank you to everyone who joined us and a huge thank you to our sponsors for partnering with us to deliver the 2023 City Building Summit: Build Up Ottawa. Zibi Canada, WSP in Canada, Regional Group, OakWood Designers & Builders, Casino Lac-Leamy, NCC and the City of Ottawa.