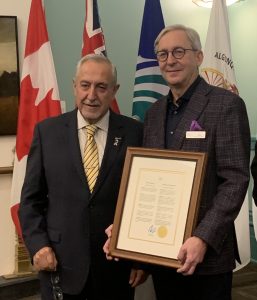 On October 17, 2022, business and community leaders gathered for Mayor Watson's annual reception in recognition of Small Business Week 2022. Ian Sherman, Chair of the Board, provided the following remarks on behalf of the Ottawa Board of Trade:
"Good morning, my name is Ian Sherman, and it is my honour to be the Chair of the Board of Directors for the Ottawa Board of Trade. I am joined this morning by my staff colleague, Lynn Ladd. And I bring regrets and warm wishes from our President & CEO, Sueling Ching.
"Thank you, Mayor Watson for hosting this important annual event to celebrate and recognize such a critically important component of our city – our small businesses. Local small businesses are at the heart of our culture, our economy, and our future. They contribute to our causes and our tax base, employ our friends and neighbours, and offer unique goods and services. We are proud to serve many of these businesses as members at the board of trade.
"The last two plus years of the pandemic has disproportionately impacted these businesses, especially those in the hardest hit sectors and those owned by entrepreneurs from equity deserving populations. We wish to acknowledge our Ottawa entrepreneurs and employees for their determination, ingenuity, and resilience during what has been the most challenging and uncertain of times.
"The Ottawa Board of Trade is the voice of business and a key economic partner in our nation's capital with a mission to cultivate a thriving world class business community, one that builds an affordable, inclusive, and sustainable city. It is to that end that we have always supported local small business success with,
access to timely information,
education, recognition, and training programs and
opportunities to connect and promote their business.
"But most importantly, we have advocated at every level of government for policies and programs that would create a competitive business environment. This work will continue to be a focus as we contemplate the future of our small businesses post pandemic.
"Businesses continue to face many challenges; however, we also know there are many opportunities. We remain committed to our collaboration with key economic partners at the city, OCOBIA, Ottawa Tourism, Invest Ottawa, and others as well as our colleagues at the Ontario and Canadian Chambers of Commerce. Together, we will support small business by reducing barriers and generating opportunities to learn and grow.
"We look forward to celebrating Small Business Week 2022 with all of you – and remember to buy local. Thank you."